Keto Creamy Chicken – Recipe
Are you ready to embark on a culinary journey that combines the goodness of a ketogenic diet with the sheer indulgence of creamy chicken? Look no further! In this article, we'll introduce you to a mouthwatering Keto Creamy Chicken Recipe that's not only delectable but also health conscious. Whether you're a seasoned keto enthusiast or just starting to explore this low-carb lifestyle, this dish is bound to become a favorite. Get ready to savor succulent chicken in a rich, creamy sauce that's not only keto-friendly but also incredibly easy to prepare. Let's dive right in and discover how to whip up this gastronomic masterpiece!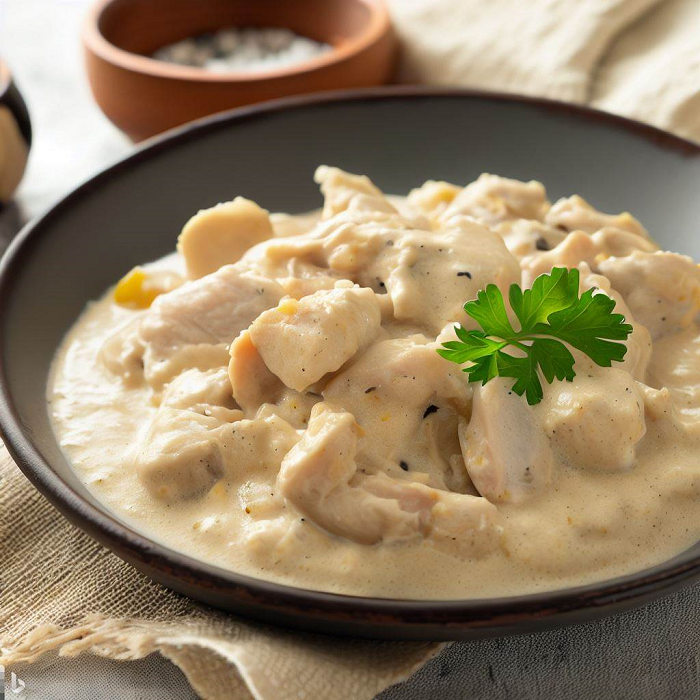 Keto Creamy Chicken
Preparation time: 10 minutes
Cooking time: 30 minutes
🍽 Servings: 1
⠀⠀⠀⠀⠀⠀⠀⠀⠀
Ingredients:
½ tbsp. Olive oil
5 oz. Chicken Breast
¼ cup Red Onion, sliced thinly
1 tsp. Ginger, chopped
½ tsp. Turmeric
½ tsp. Thyme
½ cup Cooking Cream
½ cup Chicken stock
2 oz. Cauliflower
1 oz. Broccoli
1 tsp. Lemon juice
Black pepper
Salt
⠀⠀⠀⠀⠀⠀⠀⠀⠀
Procedure:
1. In a pan add olive oil and turn on medium-high heat. Once heated, add the chicken and cook for 5 – 7 minutes.
2. Transfer the chicken on a plate and add the onions in the same pan. Cook 3 minutes.
3. Add ginger.
4. Add turmeric and thyme. Stir well and cook 3 more minutes.
5. Pour chicken stock and add the cooking cream. Stir.
6. Add the cooked chicken and let it simmer for 15 minutes.
7. In the meantime, add broccoli and cauliflower in a blender and make rice. Heat in the microwave on high for 3 minutes.
8. Serve the creamy chicken with broccoli cauliflower rice and enjoy.
➡️ Nutritional Information:
Energy – 565.6 kcal
Protein – 50.4g
Fat – 36g
Carbohydrates – 10g
Conclusion
Indulging in a keto diet doesn't mean sacrificing taste and flavor. This Keto Creamy Chicken Recipe is proof that you can enjoy a delicious, satisfying meal while staying true to your low-carb lifestyle. So, whether you're cooking for yourself or treating your family and friends, this recipe is a surefire way to delight everyone at the dinner table. Give it a try and savor the creamy goodness of keto-friendly cooking.
FAQ (Frequently Asked Questions)
Q1. Can I use chicken breast instead of thighs for this recipe?
A1. Absolutely! While chicken thighs are known for their tenderness, you can substitute them with chicken breast if you prefer a leaner option. Just adjust the cooking time accordingly to avoid overcooking.
Q2. Is this dish suitable for vegetarians?
A2. No, this recipe is centered around chicken and dairy products, making it unsuitable for vegetarians. However, you can explore alternative vegetarian keto recipes that cater to your dietary preferences.
Q3. How many servings does this recipe yield?
A3. This recipe typically serves four people, but you can adjust the quantities to suit your needs. It's easy to scale up or down depending on your dinner party size.
Q4. Can I freeze the leftovers?
A4. Yes, you can freeze any leftover Keto Creamy Chicken for future meals. Just ensure you store it in an airtight container to maintain its freshness.
Q5. What side dishes pair well with this creamy chicken?
A5. Common accompaniments include steamed vegetables, cauliflower rice, or a simple green salad. These sides complement the richness of the creamy chicken and create a balanced meal.