Keto Strawberry Cheesecake Fat Bombs – Recipe
In the world of ketogenic diets, finding a sweet treat that won't derail your low-carb lifestyle can be a challenge. But fear not, because we have just the solution for you – Keto Strawberry Cheesecake Fat Bombs! These delightful little morsels are not only a feast for your taste buds but also a perfect way to satisfy your sweet cravings while staying in ketosis. In this article, we'll take you on a culinary journey, exploring the flavors, ingredients, and step-by-step instructions to create these heavenly fat bombs. Say goodbye to dessert guilt and hello to a delicious, guilt-free indulgence!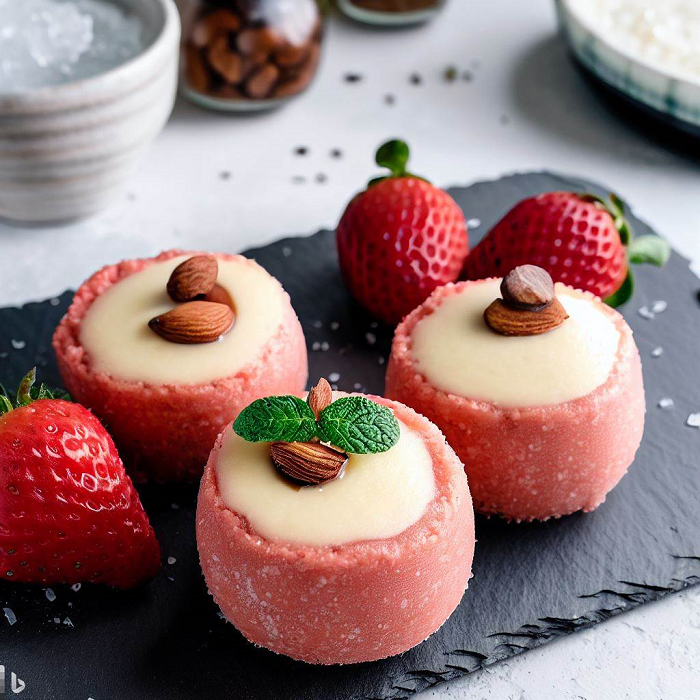 Keto Strawberry Cheesecake Fat Bombs
Preparation time: 1 hour
🍽 Servings: 3 fat bombs
Ingredients:
30 grams of Strawberries (fresh or frozen), diced
100 grams Cream Cheese, softened
1 Tbsp Coconut Oil
1 Tbsp Erythritol
1/3 cup Coconut Flour
Procedure:
1) Puree the strawberries and erythritol in a food processor.
2) Add remaining ingredients and blend until smooth.
3) Divide the dough into balls and chill until ready to serve.
➡️ Nutritional Information:
Energy – 146 kcal
Protein – 2.6g (7%)
Fat – 14g (85%)
Carbohydrates – 3g (8%)
Fiber – 0.8g
Conclusion
Incorporating Keto Strawberry Cheesecake Fat Bombs into your ketogenic journey is a delightful way to satisfy your sweet tooth while staying on track with your diet goals. These fat bombs are a testament to the fact that eating low-carb doesn't mean sacrificing flavor and indulgence. So, go ahead and treat yourself to these heavenly bites of keto goodness!
FAQs (Frequently Asked Questions)
Q1: Can I use frozen strawberries instead of fresh ones?
A1. Yes, you can use frozen strawberries, but make sure to thaw and drain them before blending.
Q2: How should I store these fat bombs?
A2. Store them in an airtight container in the freezer for up to a month.
Q3: Can I use a different sweetener?
A3. Certainly! You can substitute erythritol with other keto-friendly sweeteners like stevia or monk fruit.
Q4: Are these fat bombs suitable for vegetarians?
A4. Yes, they are vegetarian-friendly.
Q5: How many fat bombs can I have in a day on a keto diet?
A5. It's recommended to enjoy them in moderation, typically 1-2 fat bombs a day, depending on your daily macros.
Q6: Are fat bombs suitable for individuals with lactose intolerance?
A6: Yes, you can make these fat bombs lactose-free by using lactose-free cream cheese or a dairy-free alternative like coconut cream cheese.
Q7: Can I add other fruits to the recipe besides strawberries?
A7: Absolutely! Feel free to experiment with different berries like blueberries or raspberries for a unique twist on the classic strawberry cheesecake flavor.
Q8: Do these fat bombs contain gluten?
A8: No, this recipe is gluten-free. However, always double-check the labels of your ingredients to ensure they are gluten-free if you have dietary restrictions.
Q9: How can I adjust the sweetness to my liking?
A9: You can adjust the sweetness by adding more or less erythritol to suit your taste buds. Start with a smaller amount and taste the mixture before freezing to make sure it's just right for you.
Q10: Can I use a different mold if I don't have silicone molds?
A10: Yes, you can use any mold you have on hand, like mini muffin tins or silicone ice cube trays. Just be sure to grease non-silicone molds lightly before pouring in the mixture for easy removal.