Keto Broccoli and Cheddar Frittata – Recipe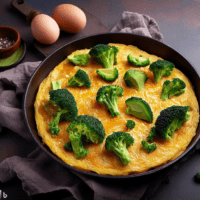 Prepare to savor the delightful combination of wholesome ingredients and robust flavors with our Keto Broccoli and Cheddar Frittata Recipe. This versatile and satisfying dish brings together tender broccoli florets, sharp cheddar cheese, and fluffy eggs, resulting in a culinary masterpiece that's both keto-friendly and utterly delicious. Whether enjoyed for breakfast, brunch, or dinner, this frittata showcases the beauty of low-carb living without compromising on taste. In this article, we'll guide you through the simple steps to create this savory delight, ensuring that every bite bursts with the goodness of broccoli and the richness of cheddar cheese, all while aligning with your commitment to a healthy, low-carb lifestyle. Get ready to savor the comfort of a warm frittata that elevates your keto dining experience to a whole new level!
Keto Broccoli and Cheddar Frittata
Preparation time: 5 minutes
🍽 Servings: 1
.
🥦Ingredients:
3 Eggs
1 Tbsp Butter
1/4 cup Cheddar Cheese, grated
1/4 cup Broccoli florets
Pinch of Salt and Paprika .
.
🥦Procedure:
1) Brush a heat-proof dish with butter.
2) Beat in eggs, salt, and paprika.
3) Mix in cheddar and top with broccoli florets.
4) Set in the microwave for about 3 minutes or until a toothpick inserted in the middle comes out clean.
➡️ Nutritional Information:
Energy – 377 kcal
Protein – 24g (27%)
Fat – 30g (71%)
Carbohydrates – 2g(2%)
Conclusion
Our Keto Broccoli and Cheddar Frittata Recipe is a testament to the art of combining simplicity and flavor in the world of keto cuisine. This frittata effortlessly balances the earthy goodness of broccoli and the sharpness of cheddar cheese, offering a delightful harmony that's both comforting and keto-conscious. Whether served as a hearty breakfast, a brunch centerpiece, or a quick weeknight dinner, this recipe underscores the versatility and tastefulness of low-carb living. Embrace the ease of preparation and the joy of savoring every fluffy, savory bite, all while staying true to your commitment to a wholesome keto lifestyle. It's a frittata that redefines the boundaries of what's possible within the realm of keto-friendly dishes, promising satisfaction with every forkful.
FAQs (Frequently Asked Questions)
Q1: How many net carbs are in one serving of Keto Broccoli and Cheddar Frittata?
A1: The net carb count per serving may vary, but typically, one serving contains around 2-4 grams of net carbs.
Q2: Can I use frozen broccoli instead of fresh broccoli?
A2: Yes, you can use frozen broccoli in this recipe. Thaw and drain it thoroughly before adding it to the frittata.
Q3: Is it necessary to use cheddar cheese, or can I use other cheese varieties?
A3: While cheddar cheese provides a sharp, bold flavor, you can experiment with other cheese varieties like mozzarella, Swiss, or Gouda to suit your taste preferences.
Q4: Can I make this frittata without dairy?
A4: Yes, you can use dairy-free alternatives such as almond milk and dairy-free cheese to make this frittata dairy-free.
Q5: Can I add other vegetables to the frittata?
A5: Absolutely! Feel free to add other keto-friendly vegetables like bell peppers, mushrooms, or spinach to customize the frittata to your liking.
Q6: Can I make this frittata ahead of time?
A6: Yes, you can prepare the frittata ahead of time and store it in the refrigerator. Reheat it in the oven or microwave when you're ready to enjoy it.
Q7: Can I freeze leftover frittata?
A7: Yes, you can freeze leftover frittata slices in an airtight container for up to three months. Thaw and reheat them as needed.
Q8: How long does the frittata stay fresh in the refrigerator?
A8: When stored in an airtight container, the frittata can stay fresh in the refrigerator for up to three days.
Q9: What's the best way to reheat leftover frittata?
A9: To reheat, place the leftover frittata in the oven or microwave until it's warmed through. You can also enjoy it cold.
Q10: What can I serve with Keto Broccoli and Cheddar Frittata?
A10: This frittata pairs well with a simple green salad, avocado slices, or a side of bacon for a complete keto-friendly meal.