Keto Curry Spiked Tuna and Avocado Salad – Recipe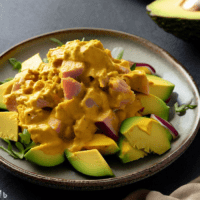 Get ready to embark on a culinary adventure that combines the vibrant flavors of a curry-spiced delight with the nourishing goodness of a keto-friendly salad. Our Keto Curry Spiked Tuna and Avocado Salad Recipe is a harmonious marriage of rich, aromatic curry seasoning, tender chunks of tuna, and the creamy decadence of ripe avocados. This salad doesn't just redefine your perception of a low-carb meal; it elevates it to a feast for the senses. Whether you're seeking a quick lunch, a light dinner, or a refreshing appetizer, this recipe offers a delightful journey through the world of keto cuisine. In this article, we'll guide you through the simple steps to create this salad, ensuring that every bite is an explosion of flavor and a celebration of mindful eating. Prepare to savor the fusion of cultures and ingredients that make this salad an unforgettable keto masterpiece!
Keto Curry Spiked Tuna and Avocado Salad
Preparation time: 5 minutes
🍽 Servings: 1
Ingredients:
6oz Albacore Tuna, drained
1/4 cup Avocado, diced
2 Tbsp chopped Celery
2 Tbsp Mayonnaise
2 Tbsp Curry powder
Pinch of Salt and Pepper
Procedure:
1) Whisk together mayonnaise, curry powder, salt and pepper in a bowl.
2) Fold in tuna, avocado, and celery.
3) Serve over keto toast or rolled in fresh lettuce. .
➡ Nutritional Information:
Energy – 357 kcal
Protein – 44g (53%)
Fat – 17g (40%)
Carbohydrates – 6g (7%)
Conclusion
Our Keto Curry Spiked Tuna and Avocado Salad Recipe is a testament to the culinary art of balancing bold flavors with health-conscious choices. This salad effortlessly combines the aromatic allure of curry seasoning with the creamy richness of avocados and the protein-packed goodness of tuna, all while staying true to a low-carb, keto lifestyle. Whether enjoyed as a quick and satisfying lunch, a flavorful dinner, or a crowd-pleasing appetizer, this recipe showcases the versatility and ingenuity of keto cuisine. Embrace the harmony of flavors and the refreshing, satisfying crunch of this salad, as it invites you to celebrate both culinary creativity and mindful eating. It's a culinary journey that leaves a lasting impression and redefines what it means to eat well within the world of keto-friendly dishes.
FAQs (Frequently Asked Questions)
Q1: How many net carbs are in one serving of Keto Curry Spiked Tuna and Avocado Salad?
A1: The net carb count per serving may vary, but typically, one serving contains around 4-6 grams of net carbs.
Q2: Can I use canned tuna instead of fresh tuna?
A2: Yes, you can use canned tuna for convenience. Just make sure it's packed in water and drained before adding it to the salad.
Q3: Is it necessary to use curry seasoning, or can I use curry powder?
A3: You can use curry powder as a substitute for curry seasoning. Adjust the amount to your taste preference.
Q4: Can I make this salad ahead of time?
A4: Yes, you can prepare the salad ingredients ahead of time and assemble it just before serving to prevent the avocados from browning.
Q5: How long does this salad stay fresh in the refrigerator?
A5: When stored in an airtight container, this salad can stay fresh in the refrigerator for up to one day.
Q6: Can I add other vegetables to the salad?
A6: Certainly! Feel free to add other keto-friendly vegetables like cucumbers, bell peppers, or cherry tomatoes for added texture and flavor.
Q7: Can I use a different protein instead of tuna?
A7: Yes, you can substitute tuna with other keto-friendly proteins like grilled chicken, shrimp, or tofu if preferred.
Q8: What type of avocado works best for this salad?
A8: Ripe Hass avocados are ideal for their creamy texture, but you can use other avocado varieties if they're available.
Q9: Is this salad suitable for meal prep?
A9: Yes, you can meal prep the individual salad components and assemble them when ready to eat for a convenient and quick meal.
Q10: Can I make the dressing ahead of time?
A10: Absolutely! You can prepare the dressing in advance and store it separately in the refrigerator. Shake or whisk it before drizzling it over the salad.