Tantalize Your Taste Buds with Raspberry Almond Tart – Recipe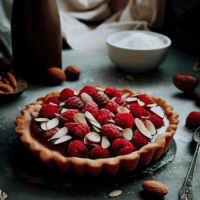 Indulging in a delightful dessert is one of life's greatest pleasures, and today, we invite you to explore the exquisite world of Raspberry Almond Tart. This dessert is a harmonious marriage of sweet, juicy raspberries and the rich, nutty flavor of almonds, all nestled within a delicate, buttery pastry crust. Whether you're an experienced baker or a novice in the kitchen, this recipe promises to satisfy your sweet cravings and impress your friends and family. So, let's dive into the culinary journey of creating a delectable Raspberry Almond Tart!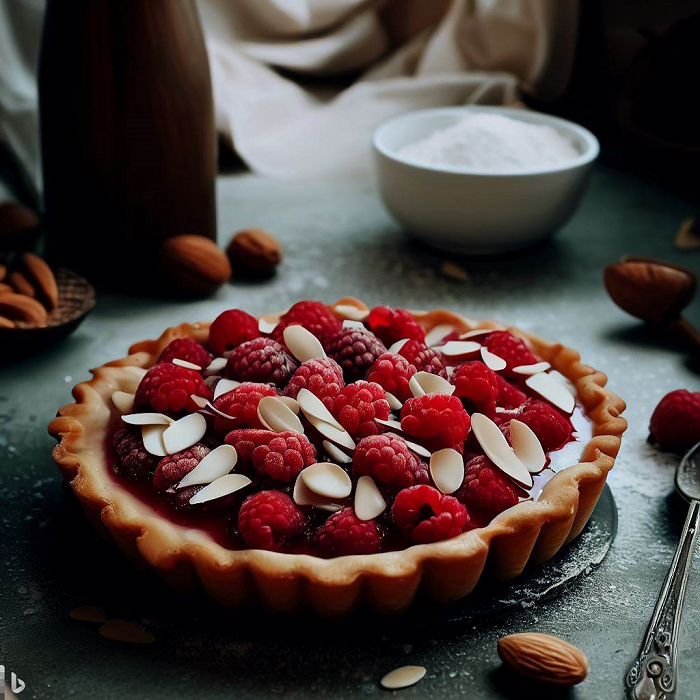 Recipe: Raspberry Almond Tart
Ingredients:
For the Pastry Crust:
1 1/4 cups all-purpose flour
1/4 cup ground almonds
1/2 cup unsalted butter, cold and cubed
1/4 cup granulated sugar
1/4 teaspoon salt
1 large egg yolk
2 tablespoons ice water
For the Almond Filling:
1 cup almond flour
1/2 cup granulated sugar
1/4 cup unsalted butter, softened
1 large egg
1 teaspoon almond extract
For the Raspberry Topping:
2 cups fresh raspberries
1/4 cup raspberry jam (seedless)
Procedures:
Step 1: Prepare the Pastry Crust
In a food processor, combine the all-purpose flour, ground almonds, granulated sugar, and salt. Pulse to mix.
Add the cold, cubed butter to the mixture and pulse until the mixture resembles coarse crumbs.
In a small bowl, whisk together the egg yolk and ice water.
With the food processor running, pour the egg yolk mixture through the feed tube and continue to process until the dough comes together.
Turn the dough out onto a lightly floured surface and knead it a few times to bring it together.
Shape the dough into a disk, wrap it in plastic wrap, and refrigerate for at least 30 minutes.
Step 2: Pre-bake the Crust
Preheat your oven to 375°F (190°C).
Roll out the chilled pastry dough on a floured surface into a circle large enough to fit your tart pan.
Carefully transfer the dough to a 9-inch tart pan with a removable bottom.
Press the dough into the bottom and sides of the pan, trimming any excess.
Prick the bottom of the crust with a fork and place parchment paper over the crust. Fill with pie weights or dried beans.
Bake the crust for 15-20 minutes, or until the edges are lightly golden.
Remove the parchment paper and weights, and bake for an additional 5 minutes to set the crust. Let it cool.
Step 3: Prepare the Almond Filling
In a mixing bowl, combine the almond flour, granulated sugar, softened butter, egg, and almond extract.
Mix until the ingredients are well combined and smooth.
Step 4: Assemble the Tart
Spread the almond filling evenly over the pre-baked tart crust.
Arrange the fresh raspberries on top of the almond filling, pressing them gently into the filling.
Warm the raspberry jam slightly, and then brush it over the raspberries for a glossy finish.
Step 5: Bake and Serve
Preheat your oven to 350°F (175°C).
Bake the tart for 30-35 minutes, or until the almond filling is set and golden brown.
Allow the Raspberry Almond Tart to cool before removing it from the tart pan.
Slice and serve this delightful dessert, garnishing with extra fresh raspberries if desired.
Conclusion:
In every bite of this Raspberry Almond Tart, you'll experience the perfect balance of sweet and nutty flavors, all complemented by the vibrant tartness of fresh raspberries. Whether enjoyed as a special treat for yourself or shared with loved ones, this dessert is sure to leave a lasting impression. So, go ahead and embrace the joy of baking this delightful tart!
FAQs (Frequently Asked Questions)
Q1. Can I use frozen raspberries instead of fresh ones?
A1. Yes, you can use frozen raspberries, but make sure to thaw and drain them well before using to prevent excess moisture in the tart.
Q2. Can I substitute almond extract with vanilla extract?
A2. Yes, you can use vanilla extract instead of almond extract, but it will alter the flavor profile slightly.
Q3. Do I need a special tart pan for this recipe?
A3. A tart pan with a removable bottom is ideal, but you can use a regular pie dish if needed.
Q4. How do I store leftover Raspberry Almond Tart?
A4. Store it in the refrigerator in an airtight container for up to 3 days.
Q5. Can I make this tart gluten-free?
A5. Yes, you can use a gluten-free flour blend in place of all-purpose flour to make the pastry crust.
Q6. What can I serve with this tart for added flavor?
A6. Whipped cream or a scoop of vanilla ice cream pairs wonderfully with this tart.
Q7. Can I use almond meal instead of almond flour?
A7. Yes, almond meal can be used interchangeably with almond flour in this recipe.
Q8. Can I use a different type of jam for the glaze?
A8. Certainly! You can use apricot or strawberry jam if you prefer a different flavor.
Q9. Can I make the tart ahead of time?
A9. Yes, you can prepare the tart up to a day in advance and store it in the refrigerator. Add the fresh raspberries and glaze just before serving.
Q10. Can I freeze the tart for future enjoyment?
A10. While it's best enjoyed fresh, you can freeze leftover slices of the tart in an airtight container for up to a month. Thaw in the refrigerator before serving.