Luscious Blackberry Cobbler: A Sweet Symphony of Summer – Recipe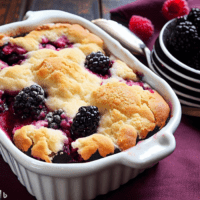 As the sun-kissed days of summer roll in, there's nothing quite like the aroma of freshly baked Blackberry Cobbler wafting through the air. This classic dessert captures the essence of the season, combining plump, juicy blackberries with a golden, buttery biscuit topping that's nothing short of pure comfort. Whether you're hosting a barbecue, a family gathering, or simply craving a taste of summer, this recipe for Blackberry Cobbler is your ticket to sweet indulgence. So, let's embark on this culinary journey to create a mouthwatering dessert that will surely become a family favorite.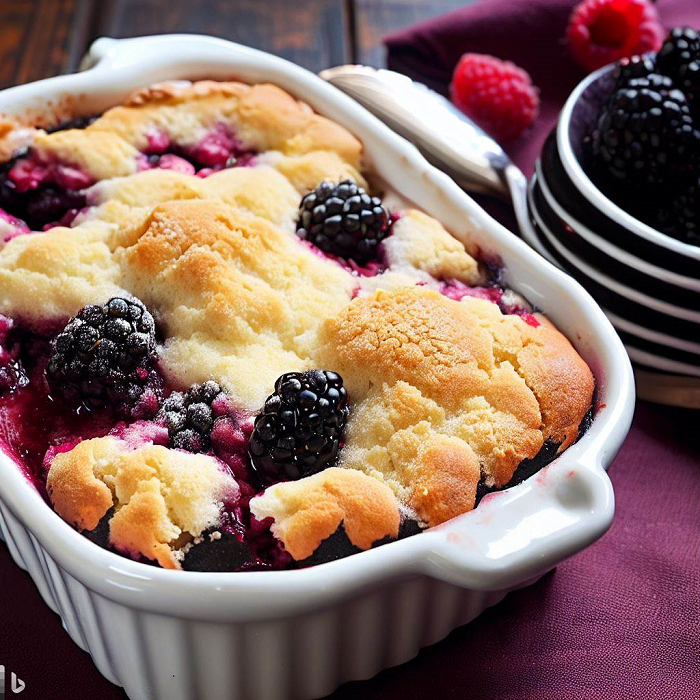 Recipe: Blackberry Cobbler
Ingredients:
For the Blackberry Filling:
4 cups fresh blackberries
3/4 cup granulated sugar
1 tablespoon cornstarch
1 teaspoon lemon zest
1 tablespoon lemon juice
1/2 teaspoon vanilla extract
1/4 teaspoon ground cinnamon
For the Biscuit Topping:
1 cup all-purpose flour
1/4 cup granulated sugar
1 teaspoon baking powder
1/4 teaspoon salt
1/4 cup unsalted butter, cold and cubed
1/4 cup milk
1 large egg
1 teaspoon vanilla extract
Procedures:
Step 1: Prepare the Blackberry Filling
In a large mixing bowl, combine the fresh blackberries, granulated sugar, cornstarch, lemon zest, lemon juice, vanilla extract, and ground cinnamon.
Gently toss the mixture until the blackberries are coated evenly with the sugar and spices. Set aside to macerate while you prepare the biscuit topping.
Step 2: Make the Biscuit Topping
In a separate bowl, whisk together the all-purpose flour, granulated sugar, baking powder, and salt.
Add the cold, cubed butter to the flour mixture and use a pastry cutter or your fingers to cut the butter into the dry ingredients until you have coarse crumbs.
In a small bowl, whisk together the milk, egg, and vanilla extract.
Pour the wet ingredients into the dry mixture and stir until just combined. Do not overmix.
Step 3: Assemble and Bake
Preheat your oven to 375°F (190°C).
Transfer the blackberry filling into a greased 9×9-inch baking dish or a similar-sized ovenproof dish.
Spoon dollops of the biscuit topping over the blackberries, covering as much surface area as possible.
Bake in the preheated oven for 35-40 minutes or until the topping is golden brown and the blackberry filling is bubbling.
Remove the cobbler from the oven and allow it to cool slightly before serving.
Conclusion
In the world of desserts, few things capture the essence of summer like a warm serving of Blackberry Cobbler. The bubbling, sweet-tart blackberry filling combined with the tender, buttery biscuit topping creates a sensory experience that is nothing short of heavenly. Whether you serve it with a scoop of vanilla ice cream or a dollop of whipped cream, Blackberry Cobbler is a timeless treat that celebrates the joys of the season. Share it with loved ones and savor every bite of this delicious, fruit-filled creation.
FAQs:
Q1. Can I use frozen blackberries instead of fresh ones?
A1. Yes, you can use frozen blackberries, but thaw and drain them before using. Adjust the sugar and cornstarch if they release excess moisture.
Q2. What other berries can I use in this cobbler?
A2. You can use a mix of berries, such as raspberries, blueberries, and strawberries, in addition to or instead of blackberries.
Q3. Can I use a different sweetener like honey or maple syrup?
A3. Yes, you can substitute granulated sugar with honey or maple syrup for a different flavor profile.
Q4. How can I make this cobbler gluten-free?
A4. Use a gluten-free flour blend in place of all-purpose flour for the biscuit topping.
Q5. Can I prepare the cobbler in advance and bake it later?
A5. You can prepare the blackberry filling and biscuit topping separately, then assemble and bake just before serving for the best results.
Q6. Should I serve the cobbler warm or at room temperature?
A6. It's traditionally served warm, but it can also be enjoyed at room temperature.
Q7. How should I store leftover cobbler?
A7. Store it in an airtight container in the refrigerator for up to 2-3 days. Reheat before serving.
Q8. Can I use almond flour for the biscuit topping?
A8. While it will alter the texture, you can use almond flour for a gluten-free option.
Q9. Can I use a different spice instead of cinnamon?
A9. You can experiment with spices like nutmeg or cardamom for a unique twist on the flavor.
Q10. Can I make individual servings of this cobbler?
Q10. Absolutely! You can divide the blackberry filling and biscuit topping among ramekins for individual servings. Adjust the baking time accordingly.