Keto Chicken and Chorizo Stew – Recipe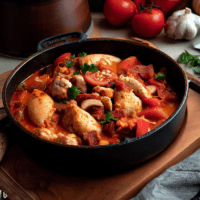 Introducing a culinary masterpiece that combines the rich, smoky flavors of chorizo with tender chunks of chicken in a comforting and keto-friendly stew, our Keto Chicken and Chorizo Stew Recipe is a true delight for your taste buds and your low-carb lifestyle. This dish marries the vibrant and aromatic spices of chorizo with succulent chicken, all bathed in a tomato-based broth that's both satisfying and health-conscious. Whether you're a seasoned keto devotee or embarking on a journey to discover the world of low-carb cuisine, this recipe promises a hearty, flavorful experience that will warm your soul while keeping your carb intake in check. Get ready to relish every spoonful of this wholesome stew, where deliciousness meets dietary prudence in perfect harmony.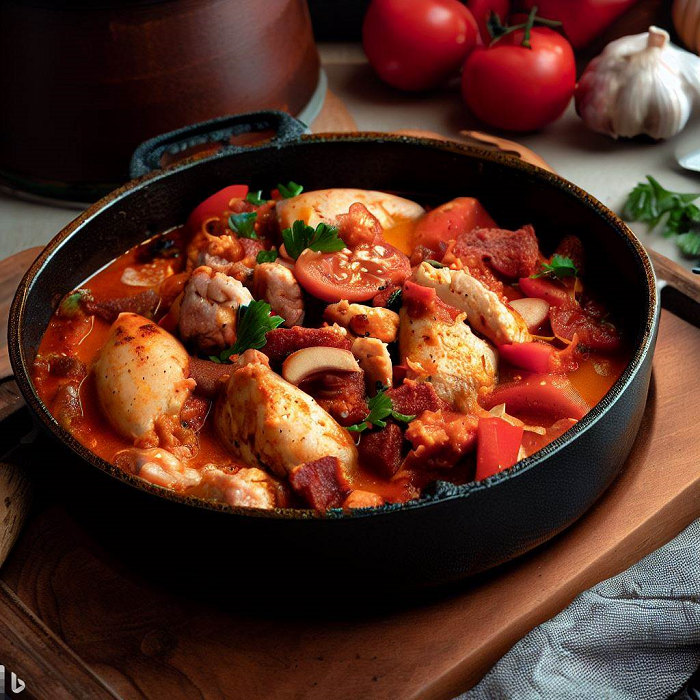 Keto Chicken and Chorizo Stew
Preparation time: 5 minutes
Cooking time: 25 minutes
🍽 Servings: 1
⠀⠀⠀⠀⠀⠀⠀⠀⠀
Ingredients:
100 grams Chicken Thighs
30 grams Smoked Chorizo
10 grams Bell Pepper, diced
1 clove Garlic, crushed
3 Black Olives
1 cup Chicken Stock
¼ tsp Dried Oregano
¼ tsp Paprika
Salt, to taste
⠀⠀⠀⠀⠀⠀⠀⠀⠀
Procedure:
1. Sear chicken thighs in a lightly oiled braising pan.
2. Add chorizo and stir until fat is rendered.
3. Add bell pepper, olives, and garlic. Stir until aromatic.
4. Add stock, oregano, and paprika. Simmer for 20-25 minutes.
5. Season with salt to taste.
➡️ Nutritional Information:
Energy – 380 kcal
Protein – 24g
Fat – 30g
Carbohydrates – 3g
Conclusion
Our Keto Chicken and Chorizo Stew Recipe stands as a testament to the delightful synergy of robust flavors and keto-conscious choices. With its tender chicken, savory chorizo, and aromatic spices, this stew is a heartwarming embrace of comfort and nutrition, perfect for both seasoned keto enthusiasts and newcomers to low-carb cuisine. It's a reminder that you can savor the rich flavors of a hearty stew while remaining committed to your dietary goals. This recipe encapsulates the essence of keto cooking, where culinary indulgence meets health-consciousness, making it a must-try for anyone seeking a warm and satisfying meal that's both flavorful and mindful of their low-carb lifestyle.
FAQs (Frequently Asked Questions)
Q1: Is chorizo keto-friendly?
A1: Most chorizo varieties are keto-friendly because they are high in fat and low in carbohydrates. However, be sure to check the label for any added sugars or fillers.
Q2: Can I use boneless, skinless chicken breasts instead of chicken thighs?
A2: Yes, you can use boneless, skinless chicken breasts if you prefer. Chicken thighs are chosen for their tenderness and flavor, but you can customize the recipe to your taste.
Q3: What type of chorizo is best for this stew?
A3: You can use either Spanish (cured) chorizo or Mexican (raw) chorizo, depending on the flavor and texture you prefer. Both work well in this stew.
Q4: Can I substitute canned tomatoes for fresh tomatoes?
A4: Yes, you can use canned diced tomatoes as a convenient alternative to fresh tomatoes. Make sure to drain them before adding them to the stew.
Q5: Is this stew spicy?
A5: The level of spiciness depends on the type of chorizo you use. Mexican chorizo tends to be spicier than Spanish chorizo. Adjust the amount of chili powder and paprika to control the heat to your liking.
Q6: How do I thicken the stew without using flour or cornstarch?
A6: The stew naturally thickens as it simmers. If you want it thicker, you can remove some of the liquid and blend it with an immersion blender, then return it to the pot.
Q7: Can I make this stew in advance?
A7: Yes, this stew actually tastes even better when reheated. You can make it in advance and refrigerate it for a day or two, allowing the flavors to meld.
Q8: Are there any suitable substitutions for heavy cream?
A8: You can use coconut cream or almond milk for a dairy-free option. Both will provide creaminess without compromising the stew's keto-friendly status.
Q9: What are some ideal side dishes to serve with this stew?
A9: Keto-friendly side dishes like cauliflower rice, a green salad, or sautéed spinach make excellent accompaniments to this flavorful stew.
Q10: How long can I store leftover chicken and chorizo stew?
A10: You can refrigerate leftover stew in an airtight container for up to four days or freeze it for up to three months. Reheat gently on the stovetop or in the microwave before serving.