Keto Teriyaki Tofu Steaks – Recipe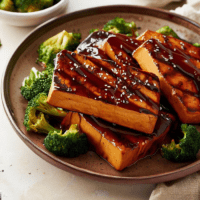 Embark on a culinary adventure with our Keto Teriyaki Tofu Steaks Recipe, a mouthwatering fusion of hearty tofu and the irresistible flavors of homemade teriyaki sauce, all thoughtfully tailored to meet the low-carb requirements of a ketogenic diet. This dish is a symphony of tastes and textures, where the tofu's creaminess melds with the sweet and savory notes of teriyaki, creating a delightful and health-conscious meal. In this article, we'll guide you through the art of crafting these delectable tofu steaks, offering insights, tips, and the sheer satisfaction that each bite of our Keto Teriyaki Tofu Steaks promises. Whether you're a devoted keto enthusiast or an adventurous food lover seeking bold and enticing flavors, our recipe invites you to savor the perfect harmony of taste and dietary mindfulness. Prepare to embark on a culinary journey filled with delight with our Keto Teriyaki Tofu Steaks.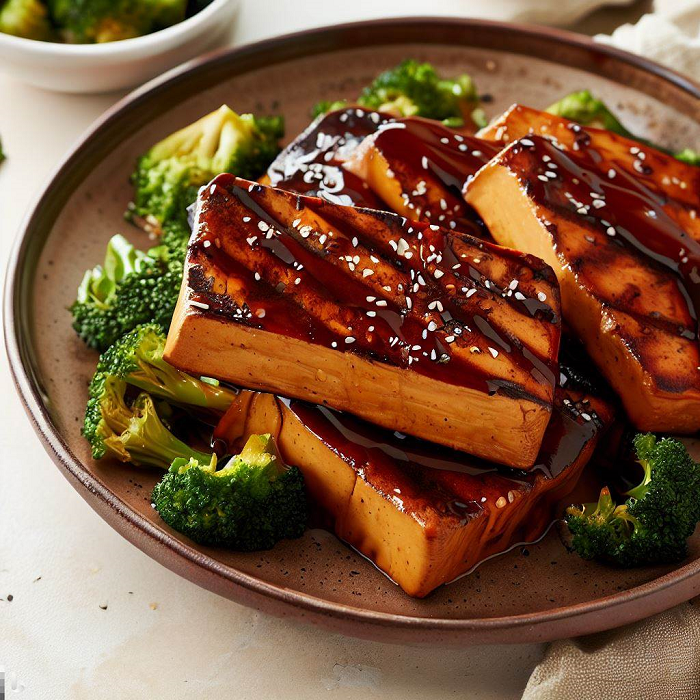 Keto Teriyaki Tofu Steaks
Preparation time: 5 minutes
Cooking time: 15 minutes
🍽 Servings: 1
Ingredients:
150g firm Tofu
1 tsp minced Ginger
1 Tbsp low-sodium Soy Sauce
1 Tbsp Mirin
2 tsp sugar-free Maple Syrup
1/4 cup Water
1 Tbsp chopped Scallions
1 Tbsp Sesame Oil
1 tsp Sesame Seeds
Procedure:
1) Stir together water, soy sauce, mirin, maple syrup, spring onions, sesame oil, and ginger in a bowl
2) Pan-fry tofu in a lightly oiled non-stick pan.
3) Pour in teriyaki sauce mixture and simmer into a glaze.
4) Top with sesame seeds and scallions. .
➡️ Nutritional Information:
Energy – 366 kcal
Protein – 25g (24%)
Fat – 28g (67%)
Carbohydrates – 8g (9%)
Fiber – 4g
Conclusion
Our Keto Teriyaki Tofu Steaks Recipe epitomizes the art of creating a dish that effortlessly combines the heartiness of tofu with the delectable allure of homemade teriyaki sauce, all while adhering to the principles of a ketogenic diet. This recipe highlights the idea that you can relish the flavors and textures of an Asian-inspired favorite without compromising your dietary goals. Whether you're committed to a keto lifestyle or simply seeking a flavorful and health-conscious meal, our Teriyaki Tofu Steaks invite you to revel in the symphony of tastes and the symphony of well-being they bring to your plate. It's not just a meal; it's a culinary journey, beckoning you to savor the fusion of taste and dietary consciousness in every savory bite.
FAQs (Frequently Asked Questions)
Q1: Is Keto Teriyaki Tofu Steaks suitable for a ketogenic diet?
A1: Absolutely! Our Keto Teriyaki Tofu Steaks Recipe is meticulously crafted to align seamlessly with the low-carb requirements of a ketogenic diet.
Q2: What type of tofu is best for this recipe?
A2: Extra-firm tofu works best for this recipe as it holds its shape and absorbs flavors well.
Q3: Can I make teriyaki sauce from scratch?
A3: Certainly! You can make your own keto-friendly teriyaki sauce using ingredients like soy sauce, erythritol, ginger, garlic, and sesame oil.
Q4: How long should I marinate the tofu in teriyaki sauce?
A4: For optimal flavor, marinate the tofu for at least 30 minutes, but longer marinating times, such as 2 hours, will enhance the taste even more.
Q5: Can I grill the tofu instead of pan-frying it?
A5: Absolutely! Grilling the tofu is a great alternative. Simply brush it with the teriyaki sauce and grill until it has grill marks and is heated through.
Q6: Is this recipe gluten-free?
A6: To make it gluten-free, ensure you use gluten-free soy sauce or tamari for the teriyaki sauce.
Q7: What sides pair well with Keto Teriyaki Tofu Steaks?
A7: This dish complements a variety of sides, including steamed broccoli, cauliflower rice, or a mixed vegetable stir-fry.
Q8: Can I substitute tofu with other protein sources?
A8: Certainly! You can use sliced tempeh or seitan for a meatier texture or even vegetables like portobello mushrooms for a different twist.
Q9: How do I achieve a crispy exterior on the tofu?
A9: Achieve a crispy exterior by pan-frying the marinated tofu in hot oil until it's golden and crispy on the outside.
Q10: Can I freeze leftover teriyaki tofu steaks?
A10: While tofu can be frozen, it may change in texture when thawed. It's best to enjoy this dish fresh for the best taste and texture.