Keto Microwave Asparagus and Cheese Soup – Recipe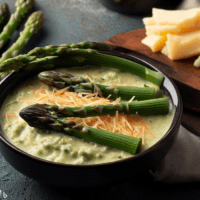 Embark on a journey of comfort and flavor with our Keto Microwave Asparagus and Cheese Soup. This exquisite creation brings together the earthy goodness of tender asparagus and the creamy richness of cheese in a hearty, soul-warming soup that's tailored to your keto lifestyle. With just a few minutes in the microwave, you can indulge in a bowl of comforting nourishment that satisfies both your taste buds and your nutritional goals. Get ready to savor the essence of homemade goodness, all with the convenience of modern technology, as this soup takes center stage as a quick and delectable keto-friendly meal option.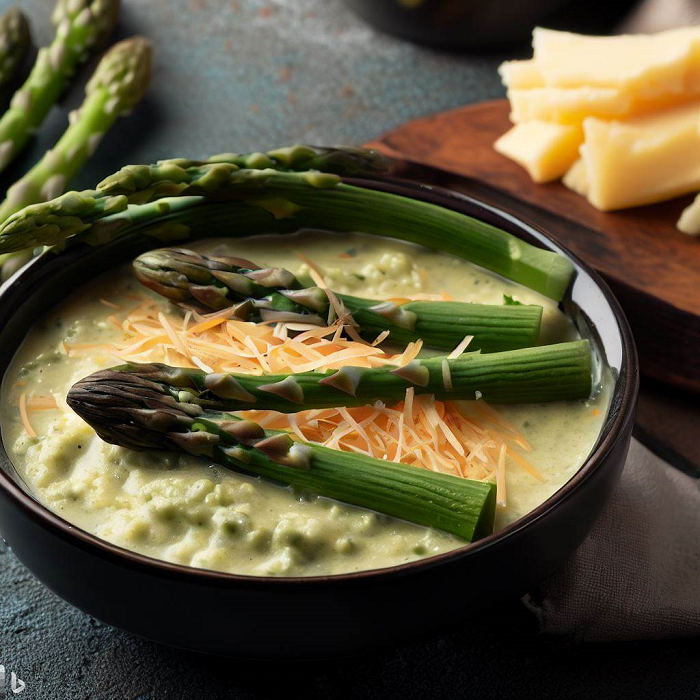 Preparation time: 5 minutes
Cooking time: 2 minutes
🍽 Servings: 1
Ingredients:
¼ cup Canned Asparagus
¼ cup Heavy Cream
¼ cup Colby Jack Cheese, shredded
½ cup Chicken Stock
pinch Salt
pinch Black Pepper
¼ tsp Onion Powder
Procedure:
1. Stir all ingredients together in a microwave-safe bowl.
2. Heat for 2-3 minutes.
3. Stir and serve.
➡️ Nutritional Information:
Energy – 266 kcal
Protein – 12g (18%)
Fat – 21g (72%)
Carbohydrates – 7g (11%)
Fiber – 1.2g
Conclusion
The Keto Microwave Asparagus and Cheese Soup redefines convenience without compromising on taste or nutrition. Its seamless blend of tender asparagus and velvety cheese creates a symphony of flavors that warm both body and soul. This soup showcases that a busy lifestyle doesn't have to mean sacrificing the pleasure of a wholesome and indulgent meal. By embracing the fusion of simplicity and culinary artistry, this dish stands as a testament to the fact that nourishment can be both convenient and deeply satisfying, aligning perfectly with your commitment to a keto-conscious way of eating.