Keto Ham and Cheese Wraps – Recipe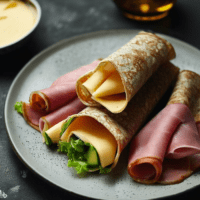 Introducing a delightful and versatile culinary creation, our Keto Ham and Cheese Wraps redefine on-the-go dining with a delicious twist. These wraps offer a perfect balance of savory ham and melty cheese, wrapped in a low-carb, keto-friendly wrap that caters to your dietary preferences without compromising on flavor. Whether enjoyed as a quick lunch, a satisfying snack, or a party appetizer, these wraps epitomize the art of simplicity and taste, providing a convenient and delectable option that fits seamlessly into your health-conscious lifestyle.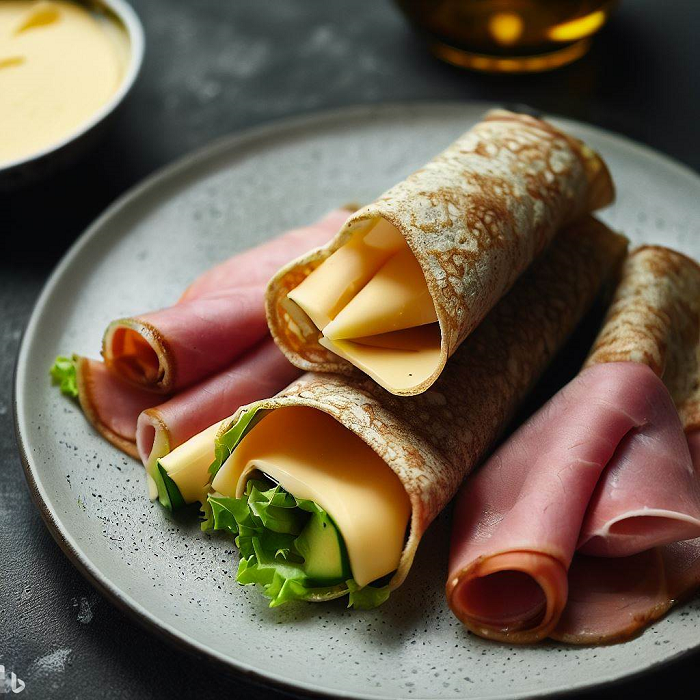 Preparation time: 5 minutes
🍽 Servings: 1
Ingredients:
6 leaves Romaine Lettuce, tough part cut-off
4 slices Sandwich Ham
1 tbsp Ranch Dressing
¼ cup Shredded Cheddar
Procedure:
1. Lay a sheet of parchment on a cutting board.
2. Arrange romaine leaves on top with slight overlaps.
3. Lay ham slices on top of the lettuce.
4. Spread ranch dressing on the ham slices.
5. Sprinkle shredded cheddar on top.
6. Lift by one side of the parchment and roll tightly all the way to the other edge.
➡️ Nutritional Information:
Energy – 286 kcal
Protein – 20g (28%)
Fat – 20g (60%)
Carbohydrates – 9g (13%)
Fiber – 4.6g
Conclusion
The Keto Ham and Cheese Wraps offer a flavorful and convenient solution for those seeking a satisfying meal that aligns with their keto journey. The harmonious fusion of premium ham and cheese, encased in a low-carb wrap, encapsulates the essence of culinary delight while honoring your commitment to a balanced diet. These wraps showcase that you don't have to compromise on taste or nutrition, even when life gets busy. With their portability and scrumptious combination of ingredients, they stand as a testament to the fact that mindful eating can be both enjoyable and effortless, making them an ideal choice for any occasion.