Keto Tiramisu Fat Bombs – Recipe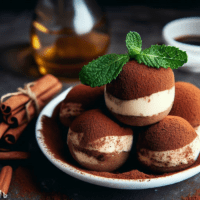 Prepare to indulge in a taste of Italy while staying true to your ketogenic lifestyle with our Keto Tiramisu Fat Bombs recipe. These bite-sized delights are a delightful twist on the classic Italian dessert, offering all the rich, coffee-infused layers of traditional tiramisu without the carb overload. Packed with the decadence of mascarpone cheese, the boldness of espresso, and the subtle sweetness of cocoa, these fat bombs are a true keto-friendly treat for your taste buds. In this article, we'll guide you through the simple steps to create these delectable fat bombs, ensuring every bite takes you on a journey through the flavors of Italy, while keeping your carb count in check. Get ready to savor the essence of tiramisu in a keto-friendly, bite-sized package that will elevate your dessert game to new heights!
Keto Tiramisu Fat Bombs
Preparation time: 1 hour
🍽 Servings: 8 fat bombs
Ingredients:
4oz Cream Cheese, softened
2oz Butter, softened
1 tsp Instant Coffee Powder
1 tsp Vanilla Extract
1 Tbsp Erythritol
1 Tbsp unsweetened Cocoa Powder
1 cup crushed Sugar-free Grahams
Procedure:
1) Combine all ingredients in a food processor.
2) Pulse into a smooth dough.
3) Divide the dough and roll into balls.
4) Chill for one hour.
➡️ Nutritional Information:
Energy – 80 kcal
Protein – 1.5g (7%)
Fat – 8g (90%)
Carbohydrates – 1g (3%)
Conclusion
Our Keto Tiramisu Fat Bombs recipe is a delightful testament to the art of keto-friendly indulgence. These fat bombs effortlessly capture the essence of the beloved Italian dessert, delivering a symphony of flavors that dance on your taste buds without derailing your low-carb lifestyle. Whether enjoyed as a guilt-free dessert or a mid-afternoon pick-me-up, these bite-sized treats redefine what's possible within the realm of keto desserts. With the creaminess of mascarpone and the aromatic allure of espresso, they offer a decadent yet wholesome escape into the world of tiramisu. Satisfy your cravings, elevate your dessert game, and embrace the journey of savoring Italian elegance with every delectable bite.
FAQs (Frequently Asked Questions)
Q1: How many carbs are in one Keto Tiramisu Fat Bomb?
A1: The carb count per fat bomb may vary slightly but typically ranges from 1 to 2 grams of net carbs.
Q2: Can I use regular cream cheese instead of mascarpone cheese?
A2: Yes, you can substitute regular cream cheese for mascarpone cheese if needed. It will have a slightly different flavor but will still be delicious.
Q3: Is it necessary to use instant espresso for the recipe?
A3: Instant espresso is recommended for its strong flavor, but you can use strong brewed coffee as an alternative.
Q4: Can I make these fat bombs without sweetener?
A4: The sweetener enhances the tiramisu flavor, but you can reduce or omit it if you prefer a less sweet fat bomb.
Q5: How long can I store these fat bombs?
A5: Stored in an airtight container in the refrigerator, these fat bombs can last up to two weeks. You can also freeze them for longer storage.
Q6: Can I use cocoa powder instead of instant coffee for dusting?
A6: Yes, you can use cocoa powder for dusting if you prefer a milder coffee flavor.
Q7: Can I add chopped chocolate or chocolate chips to the fat bombs?
A7: Certainly! Adding sugar-free chocolate chips or chopped dark chocolate can enhance the texture and flavor.
Q8: Can I make these fat bombs dairy-free?
A8: Yes, you can use dairy-free cream cheese and coconut cream instead of mascarpone cheese to make these fat bombs dairy-free.
Q9: How do I prevent the fat bombs from melting at room temperature?
A9: To prevent melting, store the fat bombs in the refrigerator until you're ready to enjoy them.
Q10: Can I use decaffeinated coffee instead of regular instant espresso?
A10: Yes, you can use decaffeinated coffee if you prefer to avoid caffeine without compromising the flavor of the fat bombs.