Keto Chocolate Mousse – Recipe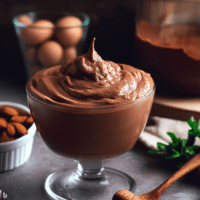 Indulge in the world of guilt-free sweetness with our Keto Chocolate Mousse Recipe, a divine dessert that combines the rich, velvety allure of chocolate with the health-conscious elegance of the ketogenic lifestyle. This dessert is a celebration of decadence without compromise, offering you the luscious taste and creamy texture of traditional chocolate mousse while staying true to your low-carb journey. In this article, we'll guide you through the effortless creation of this culinary masterpiece, sharing insights, tips, and the sheer joy that each spoonful of our Keto Chocolate Mousse brings. Whether you're a seasoned keto enthusiast or simply craving a dessert that's both delightful and health-conscious, our recipe promises to be an irresistible addition to your culinary repertoire. Prepare to experience a world of chocolatey bliss with our Keto Chocolate Mousse.
Keto Chocolate Mousse
Preparation / cooking time: 15 minutes
🍽 Servings: 1
Ingredients:
1/2 cup Whipping Cream
1tsp – 1Tbsp Stevia, depends on your preference
1 tsp Cocoa powder, unsweetened
2 Tbsp Chocolate Chips or chopped chocolates, unsweetened
Procedure:
1) In a bowl, add the whipping cream.
2) Add stevia and whisk the mixture until the texture becomes thick like the whipped cream.
3) Add the cocoa powder.
4) Combine the mixture using a spatula.
5) Lastly, add the chocolate chips. Mix again until well combined. Chill the mousse for 1 hour.
6) Serve in a small cup or bowl and top it with chopped chocolates.
➡️ Nutritional Information:
Energy – 525.7 kcal
Protein – 6g
Fat – 50.9g
Carbohydrates – 10.9g
Conclusion
Our Keto Chocolate Mousse Recipe embodies the perfect harmony of indulgence and health-consciousness, delivering a dessert that's as heavenly in flavor as it is aligned with your keto lifestyle. This mousse is a testament to the idea that you can savor the velvety, chocolatey delight you crave without compromising your dietary goals. Whether you're treating yourself to a special occasion or simply seeking a sweet ending to your day, this recipe offers a guilt-free option that satisfies both your taste buds and your commitment to low-carb living. As you revel in the creamy decadence of our Keto Chocolate Mousse, you'll discover that it's not just dessert; it's a delightful celebration of flavor and wellness in every spoonful.
FAQs (Frequently Asked Questions)
Q1: Is Keto Chocolate Mousse suitable for a ketogenic diet?
A1: Absolutely! Our Keto Chocolate Mousse is specially crafted to fit within the low-carb requirements of a ketogenic diet.
Q2: What are the main ingredients used in this mousse?
A2: This mousse is primarily made from ingredients like unsweetened chocolate, heavy cream, and a keto-friendly sweetener such as erythritol or stevia.
Q3: Can I use cocoa powder instead of unsweetened chocolate?
A3: While cocoa powder can work, using unsweetened chocolate enhances the richness and texture of the mousse. If you use cocoa powder, adjust the sweetener accordingly.
Q4: How do I store leftover mousse?
A4: Store any uneaten mousse in an airtight container in the refrigerator. It should remain fresh for up to 3-4 days.
Q5: Can I freeze this mousse for later?
A5: Yes, you can freeze it for longer storage. Use a freezer-safe container, and it can be stored for up to 2-3 months.
Q6: Is this dessert suitable for people with gluten allergies?
A6: Indeed, our Keto Chocolate Mousse is naturally gluten-free, making it a safe choice for those with gluten sensitivities.
Q7: Can I use coconut cream instead of heavy cream for a dairy-free option?
A7: Yes, you can substitute coconut cream for heavy cream to create a dairy-free version of this mousse. Make sure to choose a keto-friendly sweetener as well.
Q8: Can I make this mousse in advance for a special occasion?
A8: Certainly! You can prepare this mousse a day or two ahead of your event and store it in the refrigerator until serving.
Q9: What are some creative toppings I can add to the mousse?
A9: You can garnish your Keto Chocolate Mousse with whipped cream, grated dark chocolate, sliced almonds, or a drizzle of sugar-free caramel sauce for an extra touch of decadence.
Q10: How long does it take to prepare this dessert?
A10: The preparation time for this mousse is approximately 20 minutes, making it a quick and delightful treat for any occasion.