Keto Creamy Chicken Adobo – Recipe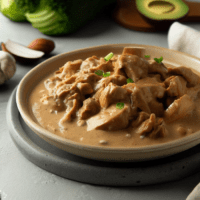 Delve into the savory world of keto cuisine with our Keto Creamy Chicken Adobo Recipe. This unique dish infuses the timeless flavors of Filipino adobo with a creamy twist while adhering to the low-carb principles of a ketogenic diet. Whether you're a dedicated keto enthusiast or simply seeking a mouthwatering, comfort-food experience, this recipe invites you to explore the rich tapestry of adobo spices and the velvety allure of a creamy sauce. Join us as we unveil the secrets to crafting this indulgent yet carb-conscious masterpiece, where tender chicken pieces marinate in an aromatic adobo sauce before being bathed in a luscious, creamy embrace. It's time to savor the best of both worlds – the traditional and the contemporary – in a keto-friendly dish that promises to tantalize your taste buds.
Keto Creamy Chicken Adobo
Preparation time: 5 minutes
Cooking time: 25 minutes
🍽 Servings: 1
Ingredients:
150g Chicken Thighs or Legs
2 cloves Garlic, crushed
1 tsp Black Peppercorns
1 pc dried Bay Leaf
1 Tbsp Coconut vinegar
2 tsp low-sodium Soy Sauce
1.5 cups Chicken Stock
1.5 Tbsp Coconut Cream
1 tsp Olive Oil
Procedure:
1) Heat olive oil in a braising pan.
2) Add chicken and sear until brown on both sides.
3) Add stock, vinegar, soy sauce, bay leaf, garlic, black peppercorns. Simmer for 20-25 minutes.
4) Reduce pan juices and stir in coconut cream.
5) Season as needed with salt.
➡️ Nutritional Information:
Energy – 463 kcal
Protein – 27g (24%)
Fat – 37g (72%)
Carbohydrates – 4.5g (4%)
Fiber – 1g
Conclusion
Our Keto Creamy Chicken Adobo Recipe beautifully demonstrates the fusion of tradition and innovation within the realm of ketogenic cuisine. This dish harmoniously combines the bold, time-honored flavors of Filipino adobo with the richness of a creamy sauce, all while staying faithful to low-carb principles. Whether relished as a comforting meal or served on special occasions, it showcases the creative possibilities of keto cooking, revealing that you can indulge in familiar, beloved flavors while maintaining your dietary goals. With each spoonful, you'll experience a symphony of tastes that prove keto dining can be both satisfying and delicious, leaving you with a newfound appreciation for the versatility of this beloved Filipino classic.
FAQs (Frequently Asked Questions)
Certainly! Here are 10 frequently asked questions about Keto Creamy Chicken Adobo, along with their answers:
Q1: What is Keto Creamy Chicken Adobo?
A1: Keto Creamy Chicken Adobo is a unique twist on the traditional Filipino adobo dish, where tender chicken pieces are marinated and cooked in a creamy, low-carb sauce. It's a delightful fusion of classic adobo flavors and keto-friendly ingredients.
Q2: Can I enjoy this dish on a keto diet?
A2: Absolutely! This dish is tailored for a ketogenic diet as it features a creamy sauce that aligns with low-carb principles while delivering the rich, familiar tastes of adobo.
Q3: What are the key ingredients in Keto Creamy Chicken Adobo?
A3: The main ingredients include chicken pieces, vinegar, soy sauce (or a keto-friendly alternative), garlic, bay leaves, and a creamy element such as heavy cream or coconut milk.
Q4: Is this dish gluten-free?
A4: The dish can be gluten-free if you use gluten-free soy sauce or tamari as a substitute for traditional soy sauce.
Q5: Can I use chicken thighs or other cuts of chicken?
A5: Yes, you can use chicken thighs, chicken breast, or your preferred cut of chicken to make Keto Creamy Chicken Adobo.
Q6: Is it necessary to marinate the chicken for this recipe?
A6: Marinating the chicken is recommended as it enhances the flavor. However, if you're short on time, you can also cook it without marination.
Q7: Can I make this dish dairy-free?
A7: Yes, you can make this dish dairy-free by using coconut milk or a dairy-free cream alternative instead of heavy cream.
Q8: How should I serve Keto Creamy Chicken Adobo?
A8: This dish can be served with cauliflower rice, zucchini noodles, or steamed vegetables to keep it low in carbs. It's also delicious on its own.
Q9: Can I prepare a larger batch and store leftovers?
A9: Absolutely! You can make a larger batch and store leftovers in an airtight container in the refrigerator for a few days. Reheat and enjoy when desired.
Q10: Is Keto Creamy Chicken Adobo suitable for individuals with nut allergies?
A10: Yes, the dish is typically nut-free, but always check specific ingredients to ensure they are safe if you have nut allergies.