Keto Fried Salmon with Scrambled Egg – Recipe
Indulge in a mouthwatering fusion of flavors with our Keto Fried Salmon with Scrambled Egg Recipe. This delectable dish brings together the richness of perfectly seasoned salmon fillets, crispy and golden on the outside, and the creamy luxury of scrambled eggs cooked to perfection. Each bite is a symphony of tastes and textures, as the tender salmon complements the velvety eggs, creating a keto-friendly breakfast masterpiece that not only satisfies your taste buds but also aligns with your health and wellness goals.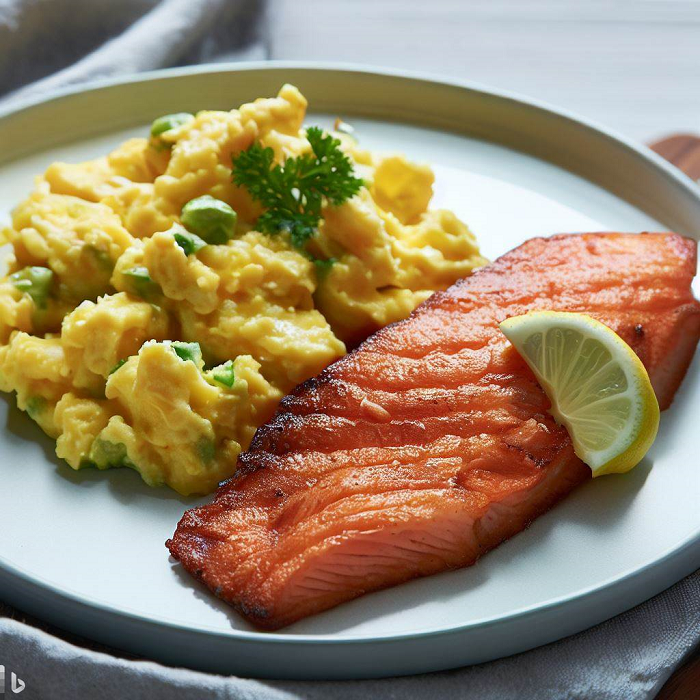 Preparation time: 15 minutes
🍽 Servings: 1
Ingredients:
150 grams fried Salmon Fillet
For the scrambled egg:
2 Tbsp Butter
1 Egg, whisked
¼ cup Heavy Cream
Salt, to taste
1 cup fresh Spinach, to serve
Procedure:
1. Prepare all the ingredients.
2. Heat a pan and melt the butter.
3. Add the eggs and use spatula to cook.
4. Add the heavy cream and mix until well combined.
5. Continue cooking until eggs are no longer liquid.
6. Season with salt.
7. Serve the fried salmon on a serving plate.
8. Add the scrambled eggs.
9. Serve with fresh spinach.
➡️ Nutritional Information:
Energy – 654.9 kcal
Protein – 49.8g
Fat – 49.3g
Carbohydrates – 3g
Conclusion
In conclusion, our Keto Fried Salmon with Scrambled Egg Recipe offers a delicious and nutritious way to embrace the keto lifestyle without compromising on flavor. The harmonious blend of omega-3-rich salmon and protein-packed scrambled eggs provides a satisfying and wholesome breakfast option that supports ketosis and overall well-being. Whether you're a dedicated keto enthusiast or simply seeking a delectable and health-conscious meal, this recipe proves that you can enjoy culinary delight while staying true to your dietary choices.