Keto Cloud Eggs – Recipe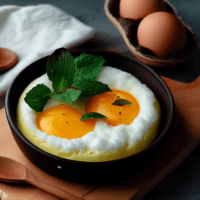 Prepare to embark on a culinary journey that defies gravity and elevates your keto breakfast game with our Keto Cloud Eggs Recipe. These ethereal, fluffy creations are a testament to how a few simple ingredients can transform into a visual and flavorful masterpiece. By separating the egg whites from the yolks, whipping them to a cloud-like consistency, and then gently nestling the yolks back in, this recipe combines creativity with keto-friendly ingredients. Whether you're a seasoned keto enthusiast or new to the world of low-carb breakfasts, these cloud eggs promise a delightful, protein-packed start to your day that's as visually stunning as it is satisfying. Get ready to rise and shine with a plate of these heavenly Keto Cloud Eggs, where culinary magic and keto goodness unite in perfect harmony.
Keto Cloud Eggs
Preparation time: 5 minutes
Cooking time: 10 minutes
🍽 Servings: 1
Ingredients:
2 Eggs
1 Tbsp Bacon, chopped, cooked
1 Tbsp Red Bell Pepper, chopped
1 Tbsp Green Onions, chopped (the greens)
2 Tomato slices
2 Cucumber slices
Black pepper and salt
Procedure:
1) Preheat the oven to 390F. Separate the yolks from the whites and add the whites in a bowl. Season with black pepper and salt. Mix with a mixer until fluffy and stiff.
2) Place a parchment paper on a baking dish and separate the egg whites into equal parts.
3) In each part, make a small hole and carefully add the yolks.
4) Bake for 10 minutes.
5) Serve topped with chopped bacon, bell pepper, green onions, slices of tomatoes and cucumber.
➡️ Nutritional Information:
Energy – 360.1 kcal
Protein – 29.4g
Fat – 25.3g
Carbohydrates – 3.7g
Conclusion
Our Keto Cloud Eggs Recipe offers a truly delightful and keto-friendly breakfast experience that transcends the ordinary. These cloud eggs, with their fluffy whites and creamy yolks, represent a fusion of innovative cooking techniques and health-conscious ingredients. They prove that breakfast can be both visually captivating and nourishing, catering to both seasoned keto devotees and newcomers to the low-carb lifestyle. These eggs are a reminder that simplicity and creativity can coexist deliciously, offering a wholesome and protein-rich start to your day while staying firmly within the boundaries of your dietary goals. So, rise and shine with a plate of our Keto Cloud Eggs, where culinary enchantment meets the goodness of keto.
FAQs (Frequently Asked Questions)
Q1: What makes these eggs keto-friendly?
A1: These cloud eggs are keto-friendly because they are made with eggs, which are a staple in a ketogenic diet, and they are prepared without high-carb ingredients.
Q2: Can I use egg substitutes for this recipe?
A2: While egg substitutes may work for some recipes, the unique texture of cloud eggs relies on whole eggs. Using egg substitutes may result in a different outcome.
Q3: Is it necessary to separate the egg whites and yolks?
A3: Yes, separating the egg whites from the yolks is essential for achieving the distinctive cloud-like appearance and texture of these eggs.
Q4: Can I season the egg whites before whipping them?
A4: Yes, you can season the egg whites with a pinch of salt, pepper, or your preferred seasonings before whipping them for added flavor.
Q5: How do I prevent the egg yolks from breaking when placing them on the egg whites?
A5: Gently nestle the egg yolks onto the whipped egg whites by creating small wells with a spoon. This helps keep the yolks intact.
Q6: Can I add other ingredients to the egg whites for extra flavor?
A6: Absolutely! You can fold in ingredients like grated cheese, herbs, or diced vegetables into the whipped egg whites for added flavor and texture.
Q7: What should I do if the cloud eggs deflate after baking?
A7: Cloud eggs may deflate slightly after baking. To prevent this, ensure that the whipped egg whites are stiff peaks before baking and avoid overcooking.
Q8: Can I bake these eggs in advance and reheat them?
A8: It's best to enjoy cloud eggs immediately after baking to retain their fluffy texture. Reheating them may cause them to lose some of their lightness.
Q9: What side dishes pair well with cloud eggs?
A9: Keto-friendly side dishes like sautéed spinach, avocado slices, or a simple salad make excellent companions to cloud eggs, creating a well-balanced keto breakfast.
Q10: Are cloud eggs suitable for meal prep?
A10: Cloud eggs are best enjoyed freshly baked. While you can prepare the whipped egg whites in advance, it's recommended to bake them just before serving to maintain their visual appeal and fluffiness.