Keto Onion Bacon Pork Chop – Recipe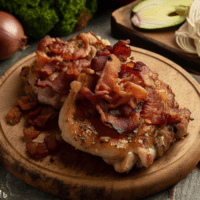 Introducing a savory delight that's sure to tantalize your taste buds and keep your keto journey on track: the Keto Onion Bacon Pork Chop Recipe. In the world of low-carb, high-flavor cooking, this dish takes center stage. With perfectly seared pork chops smothered in a rich, caramelized onion and bacon sauce, it's a culinary masterpiece that proves you can savor the indulgence of bacon while staying true to your keto goals. Get ready to embark on a flavorful adventure that harmoniously combines the smokiness of bacon, the sweetness of onions, and the juiciness of pork chops into a mouthwatering symphony of taste and nutrition.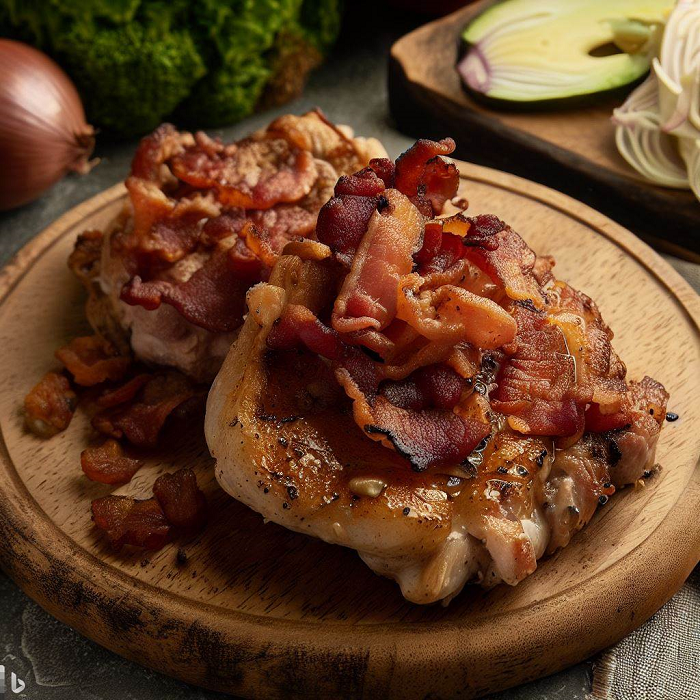 Keto Onion Bacon Pork Chop
Preparation time: 5 minutes
Cooking time: 25 minutes⠀⠀⠀⠀⠀⠀⠀⠀⠀
🍽 Servings: 1⠀⠀⠀⠀⠀⠀⠀⠀⠀
⠀⠀⠀⠀⠀⠀⠀⠀⠀
Ingredients:⠀⠀⠀⠀⠀⠀⠀⠀⠀
½ tbsp. Olive oil⠀⠀⠀⠀⠀⠀⠀⠀⠀
1 oz. Bacon, chopped⠀⠀⠀⠀⠀⠀⠀⠀⠀
¼ Onion, sliced into thin half circles⠀⠀⠀⠀⠀⠀⠀⠀⠀
1 Pork Chop (about 5 oz.)⠀⠀⠀⠀⠀⠀⠀⠀⠀
¼ cup Cooking Cream⠀⠀⠀⠀⠀⠀⠀⠀⠀
¼ cup Chicken stock⠀⠀⠀⠀⠀⠀⠀⠀⠀
Black pepper⠀⠀⠀⠀⠀⠀⠀⠀⠀
Salt⠀⠀⠀⠀⠀⠀⠀⠀⠀
⠀⠀⠀⠀⠀⠀⠀⠀⠀
Procedure:⠀⠀⠀⠀⠀⠀⠀⠀⠀
1. In a pan over medium-high heat add olive oil. Add the bacon and cook for 5 minutes. Set aside.⠀⠀⠀⠀⠀⠀⠀⠀⠀
2. In the same pan, in the bacon fat cook the onion for 3 minutes. Set aside.⠀⠀⠀⠀⠀⠀⠀⠀⠀
3. In the same pan cook the pork chop for 10 – 15 minutes, flipping once halfway through.⠀⠀⠀⠀⠀⠀⠀⠀⠀
4. Remove the pork and return the bacon and onion in the pan. Pour chicken stock. Cook 3 minutes.⠀⠀⠀⠀⠀⠀⠀⠀⠀
5. Add cooking cream and cook until thickened.⠀⠀⠀⠀⠀⠀⠀⠀⠀
6. Season with black pepper and salt.⠀⠀⠀⠀⠀⠀⠀⠀⠀
7. Serve with keto-friendly lettuce salad and enjoy!⠀⠀⠀⠀⠀⠀⠀⠀⠀
⠀⠀⠀⠀⠀⠀⠀⠀⠀⠀⠀⠀⠀⠀⠀⠀
➡️ Nutritional Information:⠀⠀⠀⠀⠀⠀⠀⠀⠀
Energy – 709.6 kcal⠀⠀⠀⠀⠀⠀⠀⠀⠀
Protein – 47.6g⠀⠀⠀⠀⠀⠀⠀⠀⠀
Fat – 54.8g⠀⠀⠀⠀⠀⠀⠀⠀⠀
Carbohydrates – 6.5g
Conclusion
The Keto Onion Bacon Pork Chop Recipe offers a mouthwatering finale to your low-carb culinary journey. With its succulent pork chops and the savory dance of onions and bacon, this dish not only satisfies your taste buds but also aligns perfectly with your keto lifestyle. Its rich flavors and hearty satisfaction prove that healthy eating can indeed be a delectable adventure. So, don't wait any longer; dive into this flavorful masterpiece and enjoy the best of both worlds – taste and wellness on your plate.
FAQs
Q1. Can I use boneless pork chops for this recipe?
A1. Yes, you can use boneless pork chops if you prefer. Just be mindful of adjusting the cooking time as boneless chops may cook slightly faster than bone-in ones.
Q2. Is it essential to use bacon for this dish?
A2. Bacon adds a unique smoky flavor to the recipe, but if you prefer a bacon-free version, you can omit it. The onions and pork chops will still create a delicious combination.
Q3. What sides pair well with this keto pork chop recipe?
A3. This dish goes wonderfully with keto-friendly sides such as cauliflower mash, sautéed spinach, or a crisp garden salad. Feel free to get creative with your side choices!
Q4. Can I make this recipe dairy-free?
A4. Absolutely! If you're following a dairy-free keto diet, you can substitute butter with a dairy-free alternative like coconut oil or ghee for sautéing the onions.
Q5. Is it suitable for meal prep?
A5. Yes, this recipe is excellent for meal prep. Cook up a batch, divide it into individual portions, and refrigerate or freeze them for quick and convenient keto-friendly meals throughout the week. Just reheat and enjoy!