Keto Pork Steak With Garlic Butter and Mushroom – Recipe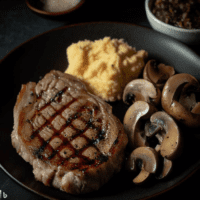 Introducing the Keto Pork Steak With Garlic Butter and Mushroom Recipe—an exquisite culinary journey that elevates the humble pork steak to new heights with the luscious decadence of garlic butter and earthy mushrooms, all while adhering to the principles of a keto-friendly diet. In a world where dietary choices meet gastronomic creativity, this recipe shines as a beacon of flavor and innovation. Prepare to embark on a journey where tender pork steaks, seared to perfection, are transformed into a keto masterpiece, crowned with a velvety garlic butter sauce and a medley of sautéed mushrooms. This dish isn't just a meal; it's a tantalizing symphony of flavors, a celebration of culinary richness, and a testament to the boundless possibilities of satisfying your cravings while staying true to your low-carb lifestyle. So, get ready to redefine your dinner experience and savor every succulent bite of this Keto Pork Steak With Garlic Butter and Mushroom Recipe.
Keto Pork Steak With Garlic Butter and Mushroom
Preparation time: 20 minutes
🍽 Servings: 2
⠀⠀⠀⠀⠀⠀⠀⠀⠀
Ingredients:
2 Pork Steak, 150 grams each
Salt and pepper
4 Tbsp Butter, divided
2 Garlic cloves, chopped
½ tsp Paprika
½ tsp Cumin Seed
1 cup Mushrooms, sliced
¼ cup Chicken Stock
⠀⠀⠀⠀⠀⠀⠀⠀⠀
Procedure:
1. Prepare all the ingredients. Season the pork steak with salt and pepper.
2. Melt the butter in a non-stick skillet.
3. Saute the garlic until fragrant.
4. Place the pork steak into the skillet and continue cooking. Carefully flip the steak.
5. Add mushrooms and broth, and allow it to cook.
6. Season with paprika and cumin seed. Cook for another minute and baste the pork steak with more butter. Serve.
➡️ Nutritional Information:
Energy – 450.8 kcal
Protein – 29.8g
Fat – 34.8g
Carbohydrates – 4.6g
Conclusion
The Keto Pork Steak With Garlic Butter and Mushroom Recipe represents the epitome of culinary excellence, where succulent pork steaks and keto-friendly principles converge seamlessly. It stands as a testament to the notion that dietary choices need not compromise the pleasure of indulgence. Whether savored as an elegant dinner centerpiece or a comforting family meal, this recipe exemplifies the art of crafting delectable, health-conscious dishes without sacrificing depth of flavor or richness. So, relish each tender, flavorful bite of pork, enveloped in the velvety embrace of garlic butter and the earthy charm of sautéed mushrooms, and let it serve as a reminder that culinary innovation knows no boundaries, even within the realm of keto cuisine.
FAQs (Frequently Asked Questions)
Q1. Can I use boneless pork chops instead of pork steak for the Keto Pork Steak With Garlic Butter and Mushroom Recipe?
A1. Yes, you can use boneless pork chops if you prefer; however, pork steaks may have more flavor due to the bone.
Q2. What makes this dish "keto-friendly"?
A2. This recipe is keto-friendly because it focuses on low-carb ingredients like pork, garlic butter, and mushrooms while avoiding high-carb elements like flour or sugar.
Q3. Can I use other types of mushrooms besides button mushrooms for this recipe?
A3. Absolutely! You can use cremini, shiitake, or wild mushrooms to add depth of flavor to the dish.
Q4. Do I need to use fresh garlic, or can I use garlic powder instead?
A4. While fresh garlic provides the best flavor, you can use garlic powder as a substitute. Adjust the quantity to your taste.
Q5. Can I prepare the garlic butter sauce in advance and store it for later use?
A5. Yes, you can make the garlic butter sauce in advance and store it in the refrigerator. Reheat gently when ready to serve.
Q6. Is it necessary to marinate the pork steaks before cooking them?
A6. Marinating is optional, but it can enhance the flavor. You can marinate the pork steaks for 30 minutes to a few hours in a mixture of oil, herbs, and garlic for added taste.
Q7. Can I make this dish without butter if I have dietary restrictions?
A7. If you have dietary restrictions, you can use a dairy-free butter substitute made from coconut oil or olive oil for a similar effect.
Q8. What side dishes pair well with this keto pork steak recipe for a complete meal?
A8. Ideal side dishes include roasted vegetables, cauliflower mash, or a crisp green salad to balance the richness of the pork and garlic butter.
Q9. Can I use a different protein, like chicken or beef, for this recipe?
A9. Yes, you can adapt this recipe to your protein preferences by using chicken breasts or beef steaks. Adjust the cooking time accordingly.
Q10. Can I freeze any leftover Keto Pork Steak With Garlic Butter and Mushroom?
A10. Yes, you can freeze leftovers in an airtight container for up to three months. Thaw and reheat gently on the stove or in the oven to maintain flavor and texture.